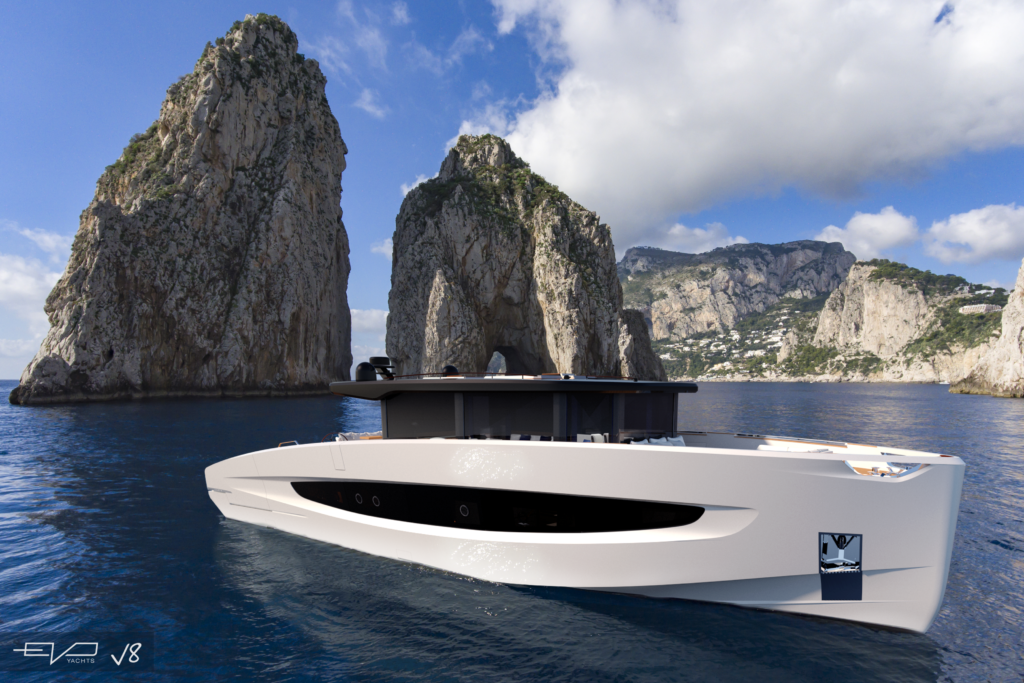 Evo Yachts: innovation and technology for the new flagship Evo V8
Evo Yachts, the well-known brand of the Mercuri brothers' shipyard Blu Emme Yachts, has officially introduced the Evo V8, the company's new flagship.
Blu Emme Yachts' entrepreneurial activity has always included capacity building, attention to detail, and a drive for innovation, as evidenced by the traditional launch ceremony, which involved the owner, the entire team, and the workers from the dock of the marina of Torre Annunziata (Naples), celebrating the result of months of careful planning and implementation.
An ambitious and innovative project
The Evo V8 is a 24-metre yacht with a basic and elegant design that aspires to provide a new and more exciting experience on the sea, with the goal of becoming a meeting point for recommendations from both the sailing and motor boating worlds.
The new boat, which marks a watershed moment for the shipyard, intends to dazzle the market with its cutting-edge technology and unique concepts.
"The shipyard crew has dedicated themselves to this big project with dedication, enthusiasm, and commitment over the course of months of rigorous labour. The completion of the Evo V8 represents the culmination of a significant period of progress for the shipyard, one of which we are extremely pleased.
At the same time, for us, this launch serves as a springboard for new initiatives that are becoming increasingly ambitious and innovative "The project's Production Manager, Paolo D'Orazio, stated.
Image: evoyacths