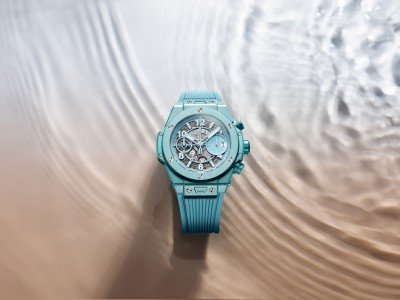 Limited Edition Hublot Big Bang
The exquisite Hublot Big Bang nico Summer's exclusivity.
The Hublot Big Bang nico Summer is only available in certain Mediterranean stores and is designed to be the summer's star. With each new release, the brand astonishes with unique designs that entice luxury watch collectors. And this time, we'll tell you all about this new model, which is sure to be a hit this season.
In recent years, one of the most prestigious watches has been released. Its designer was inspired by the freedom to roam, the sun, and the vacations of the time when creating it. As a result, he produced a Hublot Big Bang Unique Summer avant-garde and limited edition watch, of which only 200 will be sold in high-end retailers. The 42mm case is made of satin and polished turquoise anodized aluminum, which is a signature material of the Hublot Big Bang because of its lightness and resistance to shocks and scratches. The boom in big watches is undeniably still going strong. A uniform blue that reflects the tone of Mediterranean seas.
Its internal features include the HUB 1280 manufacturing caliber, which allows it to run for around 72 hours. From the dial, you may admire an adjustable chronograph system with a ball and a column wheel. Its hands are turquoise and white in color. The case's thickness has been decreased to make it flatter, with a thickness of only 14.5 mm.
Hublot Big Bang Unique Summer comes with two straps in the same color: one with velcro closure and sports buckle, and the other in natural rubber with a beautiful plate of the folding clasp. Both are made of turquoise anodized aluminum and are coated in a glossy white finish with the Hublot logo engraved. Only a few Hublot boutiques will have it, including those in Cannes, Capri, Forte dei Marmi, Ibiza, Mykonos, and Saint-Tropez.
Image: worldtempus