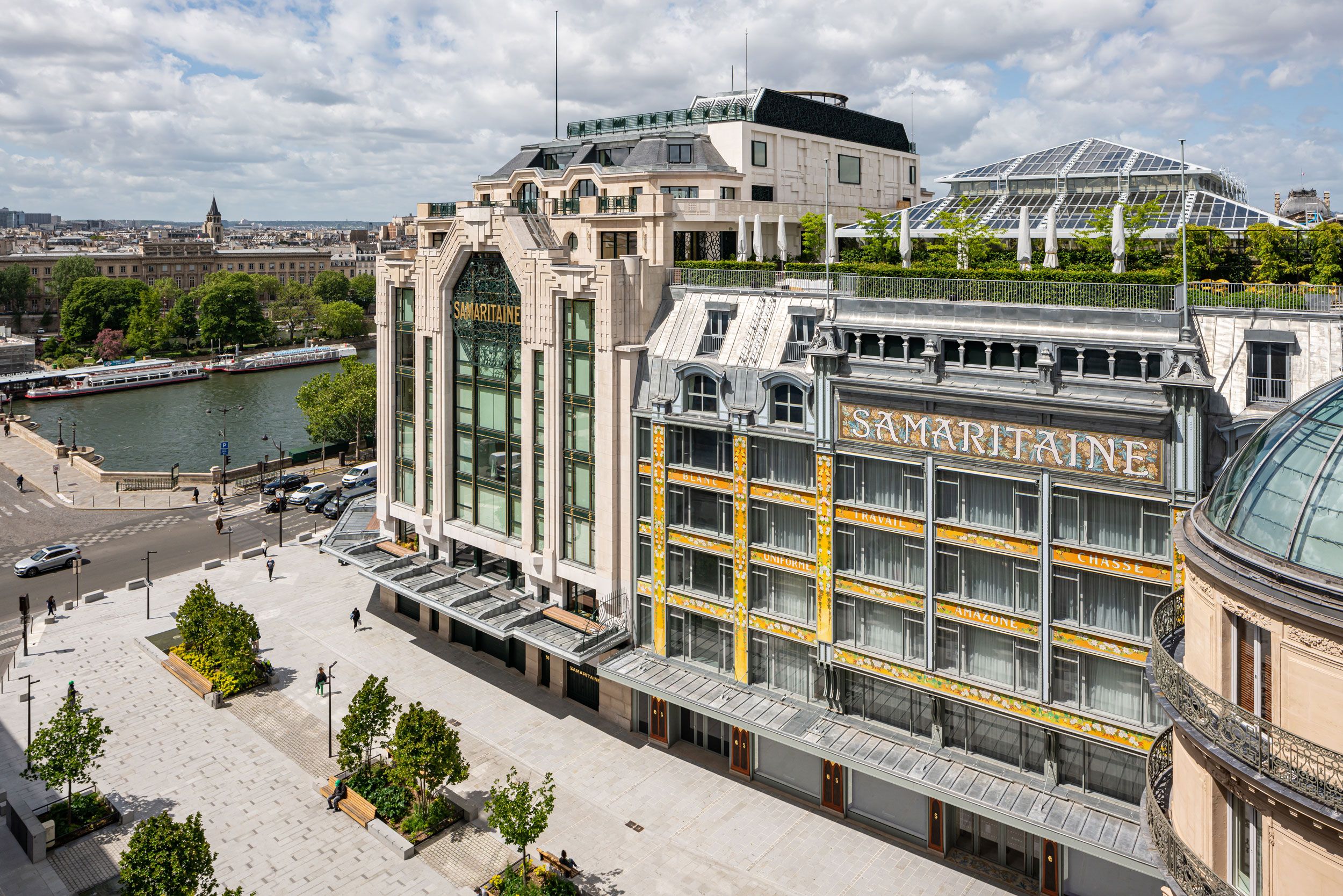 La Samaritaine building

opens

its doors as

Paris

new luxury center
The Billion Dollar luxury building La Samaritaine reopens its doors after a sixteen-year restoration project, with the goal of becoming the new luxury center of Paris. The French capital is expanding its gallery portfolio, with a focus on exclusivity.
This landmark building, which blends a harmonic combination of Art Nouveau and Art Deco, has undergone a thorough restoration to preserve its legacy and restore its former magnificence. The selective distribution business DFS, which is owned by the renowned luxury group LVMH, the primary stakeholder of La Samaritaine, has guided this ambitious project with an emphasis on environmental respect.
Its opulent glass ceiling, built by architect Frantz Jourdain, ceramics and murals with peacock motifs, and staircase, with 16,000 sheets of gold leaf used for the banister, have all been restored. A total of 750 million euros was invested in the project.
The structure has a total area of 70,000 square meters, divided into seven storeys, with 20,000 square meters of commercial space. There will be 600 luxury stores in the galleries, both from the LVMH group and from other companies, all focusing on the beauty industry. Unlike other galleries in Paris, La Samaritaine will be a location dedicated to luxury beauty, with no sections dedicated to jewelry, home décor, or fashion. All of this is with the aim of becoming Continental Europe's largest cosmetics and beauty space.
La Samaritaine's gastronomy includes a pâtisserie, an inviting brasserie, a boulangerie and a tearoom, as well as a Krug champagne bar, which are all strategically located around the building. The Voyage, located on the fifth floor, is a delightful 1,000 m2 area in the form of a sunny conservatory built by the Willmotte cabinet, with three distinct ambiances and daily changing menus.
The elite Cheval Blanc hotel, the first urban hotel of the Cheval Blanc wineries, will be located next to the retail area at La Samaritaine, which is owned by LVMH. A premium hotel with 72 rooms and suites overlooking the Seine River, designed by renowned architect and interior designer Peter Marino.
During September, Paris will welcome visitors to its new museum of luxury, which will definitely become a must-see for those interested in the beauty sector. The Samaritaine Paris Pont-Neuf is resurrecting to become a hotspot for exclusivity and elegance.
Images: harpersbazaar