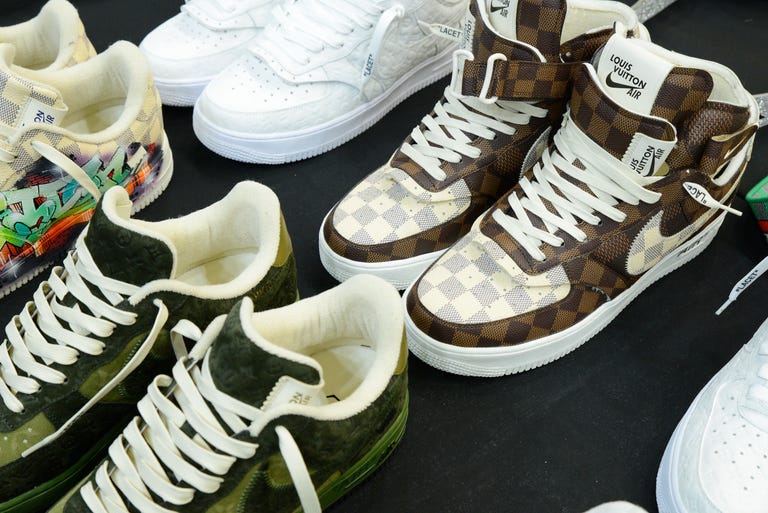 The stars sneakers of Nike and Louis Vuitton
Sneakerheads will fall head over heels for Nike and Louis Vuitton's new partnership.
The most recent fashion week in Paris was full of surprises. Without a doubt, the most important was the unveiling of Louis Vuitton's spring/summer 2022 collection. What went wrong? When the fashion show visitors gazed down at the models' feet, they couldn't believe their eyes: they were wearing special Air Force 1 with the French firm's monogram.
The sneakers quickly became popular. The internet is ablaze with photographs of this limited-edition model, which has already driven more than one collector insane. However, despite having the Vuitton mark, the cooperation is not completely exclusive to the company. Virgil Abloh, the dynamic creative director of Louis Vuitton, has offered Nike a handshake. A very specialized and personal project aimed at resurrecting the original Air Force model, which was introduced in 1982.
Looking back, it's clear that this isn't the first time the designer and the brand have collaborated. They collaborated on Serena Williams' sports closet for the US Open a couple of years ago. And, of course, the resale of these shoes on the secondary market has made them the most sought-after sneakers of the moment.
The Vuitton Air Force 1 is a limited-edition bag designed by Louis Vuitton
Every new Air Force 1 model attracts a swarm of collectors, and these Louis Vuitton models are no exception. The so-called pearl of sneakerheads will be available in a total of 21 hues. The Nike logo and the leather of the sneakers covered with the Vuitton monogram, the word "Air" printed on the side of the sole, and the illustration of the word "lacet" on the laces are all common aspects.
And then there's the big question: when will they be available for purchase? We've got some awful news for you. More information has not been provided by either Nike or Louis Vuitton. Although, given that they were announced as part of the 2022 season, we may anticipate that they will arrive soon. For the time being, all we can do is wait.
Image: esquire