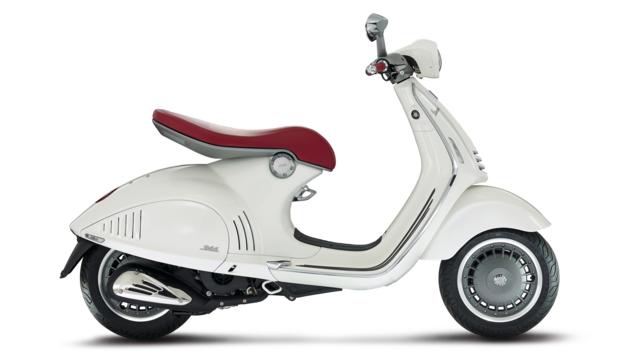 The Vespa 946 presented years ago is a scooter that carries the Vespa brand, which is part of the "Piaggio" company's classic product line.
The audience was captivated by the design of these engines, which was a huge success.
The design is built of aluminum alloy and sheet steel in equal parts.
The aluminum alloy is used for the handlebars, side cover, and fender, the chassis is built of sheet steel.
A horizontally positioned gas-pressure spring element is used in the rear axle. The Vespa 946 incorporates traction control and anti-lock brakes, as well as LED lighting in the headlamp.
The Vespa 946 was introduced as a one-of-a-kind vehicle. The limited-edition variation costs just under 10,000 euros and comes in the "colors" black and white.
This "special edition" is also known as "Ricordo Italiano". There are only 1200 models available. 200 of 1200 were sent to Austria, while 300 were sent to Germany.
In terms of marketing, Piaggio has adopted a slightly different strategy. The Vespa 946 was shown in both its production and prototype versions at the "EICMA," but the manufacturer made sure that relevant pieces about the Vespa 946 were published in lifestyle and business magazines. There was no need for a complex or elaborate presentation.
The Vespa 946 is available in two different versions. The 125 and 150 cubic centimeter engines are available. Both have electronic injection and a centrifugal clutch in their continuously variable transmissions.
The tires are 12 inches in diameter, and the service intervals are 10,000 kilometers.
Image: bbc.com